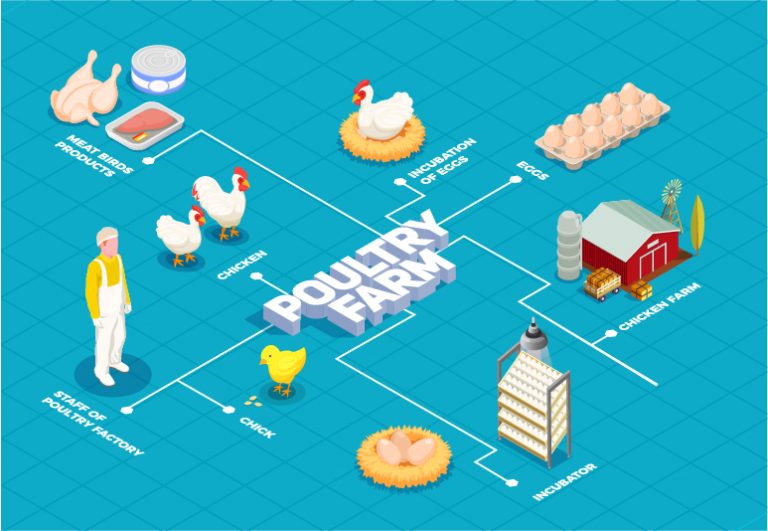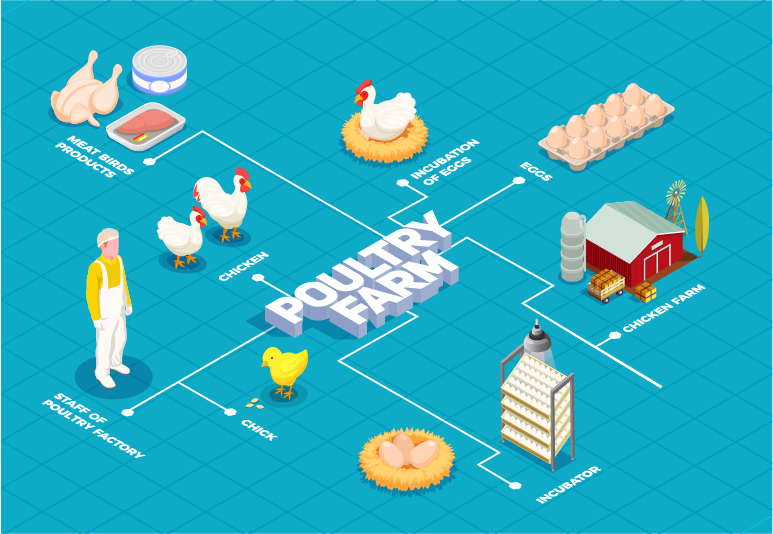 is one of the animal husbandries involved in raising domesticated birds solely for their meat and eggs. Chicken are few domesticated birds that are chosen widely for poultry farming.
Among these, mostly chickens are used for large and commercial farming for their meat and eggs, while they produce the maximum amount of protein sources for us. The vital reasons to rare poultry on a large scale are because feed intake, water consumption, and space required are less compared to the rearing of other kinds of livestock.
Chickens bred for their meat are called broilers and chicken bred for their eggs are called layers. Intensive training or experience are not required for commercial poultry farming, to gain wide knowledge one can visit farms of established poultry farmers. To know more about poultry farm management and to attain a profitable and successful approach of poultry business click here. 
Factors that increase growth rate in poultry sector
India is one of the fastest developing countries with an increase in income of the country's population coupled with changing of food habits and increasing in exposure to global cuisines. 
The rise of population effects the growth of foodservice markets such as restaurants, fast-food units, and bakery foods creating a positive impact on consumption of broiler meat and eggs not only on their taste and reliability, nutrition value of poultry products like eggs and meat are high among all edible meat and has a less fat content and rich in proteins and essential amino acids and has low cholesterol.
On average, a human intake of eggs per year should be 180 eggs but as of now, only 80 – 100 are being consumed. Eggs are a nutrient powerhouse, low-calorie food with loaded proteins, vitamins, and little fats.  
Contribution of poultry farming towards the economy
Nowadays the poultry industry is a high technical agricultural industry and rapidly changing. India today is one of the world's largest producer of eggs and broiler meat. India stands 3rd largest producer of eggs in the world and 5th place for its broiler meat in the world.
Few Indian states which are leading and producing chicken/broiler production are Maharashtra, Haryana, West Bengal, Tamil Nadu, Andhra Pradesh, and Telangana. 
The growth rate for broiler in India is 8-10% per annum. India stands in the 3rd place with 6% production of eggs, as China stands in the first place of the egg production with 42% of global production.
USA stands in the 2nd place with 7% of egg production. The top 3 states that produce a large number of eggs are Tamil Nadu with 54.76%, Maharashtra with 32.47%, Kerala with 12.58%.
In 2012, the production rate of eggs in India is 3.16 million metric tons.  The poultry industry in India is showing a drastic transformation, from backyard farming to one of the major commercial industry and contributing about 70,000/- crores of national GDP. 
Poultry farming in the past years has been extremely enhancing in rural livelihoods and generates employment opportunities for farmers and agricultural workers directly or indirectly.   
During 1961 the poultry industry was 2% decades passing by the proportion of hybrid birds dominated the market and has restructured in India by using advanced technology.
Based on from 1987 to 1992 more than 90% of the broilers are accounted for in rural and semi-urban areas. In between these years, there was a rapid growth of broilers up to 21% compared to layers.
The leading states in poultry industries are Andhra Pradesh, Tamil Nadu in the southern region. Bihar and West Bengal in eastern, western stands Maharashtra and Punjab stands in the northern region.
Poultry production in 2001 was 179 metric tonnes, by 2012 it was 975 metric tonnes. In between 2005 to 2009, there was extreme growth in production which is showing 435 metric tonnes.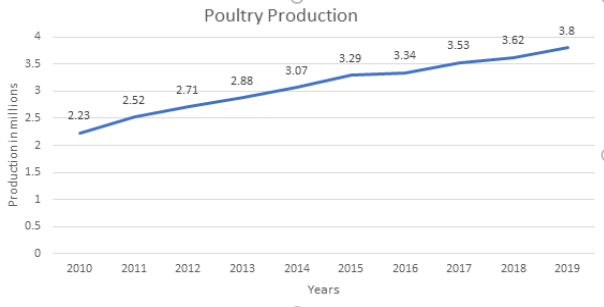 From the above graph, you can see the production is increasing from year to year. The production had started at 2.23 million in 2010. By 2015 there was a drastic increase in production which is 3.29 million from 3.07 million in 2014. Gradually without a diminish it has reached 3.8 million by2019.   
Benefits of Poultry Farming Business: 
The poultry farming business has plenty of benefits. Therefore, many farmers like better to invest in this business. People generally establish poultry farms for manufacturing of eggs, meat, and to get high revenue from these products. Around, billions of chickens are raised throughout the planet as an honest source of food from their eggs and meat.   
The main advantage of poultry farming is that it doesn't require high capital for starting. You just need basic capital to start farming. Also, most of the birds are not expensive to start.
Farming doesn't need an enormous space unless you're getting to start commercially. You can easily raise birds in your backyard. Hence, if you're curious about poultry farming, then you'll simply roll in the hay in your backyard with several birds.   
High Returns in Short Time Period:
Interestingly, the commercial farming business ensures a high return of investment within a very short time period. Few poultry birds like broiler chickens take a shorter duration of your time to generate profit. Poultry products are not much expensive. It can be afforded by most people.   
High Maintenance not required:
High maintenance is not required in farm structures. Also, you'll minimize diseases and illness by following proper hygiene and care. Diseases are less in some birds like quails, turkeys, etc
It must be noted that you don't need any license. As most poultry birds are domestic. Also getting a license from the relevant authority is additionally easy for poultry. 
Poultry gives you fresh and nutritious food and features a huge global demand. Therefore, global consumers of poultry products prefer them because of rich their nutrients and freshness.
Marketing poultry products is very easy. There is a long-time marketplace for poultry products in most places on the planet. So, you can easily sell the poultry products in your nearest local market. With the help of a poultry app, you can market your poultry products much easier.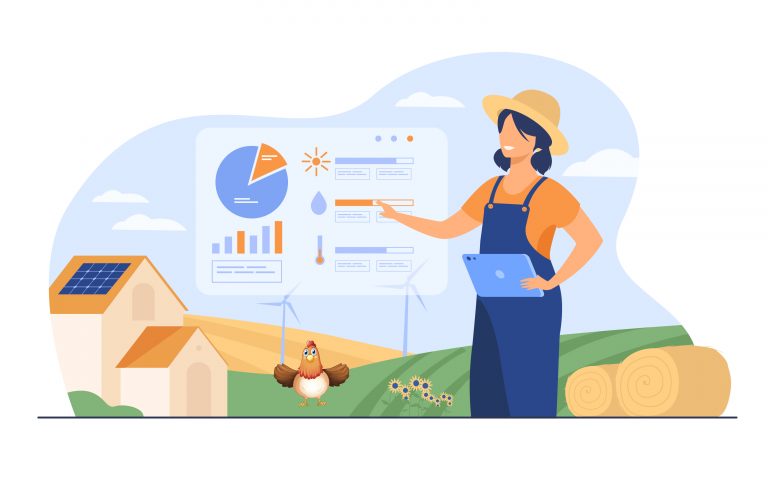 Income & Employment Opportunities: 
Poultry farming creates income and employment opportunities. Poultry farming offers full time or part-time employment opportunities to farmers.
As we have discussed above; India today is one of the world's largest producers of eggs and broiler meat. It's not just their eggs and meat that makes poultry a great business. They provide an affordable entry point for long term economic investment and help into many marketable products. 
With the help of digitalized innovations in the poultry industry, we can overcome the future challenges faced by poultry farmers and start-up entrepreneurs.  
With our poultry application goes hand in hand to the poultry farmer, fast and easy setup one can track his feedstocks, inventories, expenses, sales & purchases.
We provide you with weather updates, Feed conversion ratio (FCR) calculations, and daily updated market prices related to poultry management. 
You can save your precious time by updating your daily business accounts in minutes making it simple. 
You can manage your entire business from a single application. 
These days mobile apps play a vital role in fuelling business growth, enhanced options in the poultry app do better in achieving your business goals and marketing.  
Free of cost, we at poultry app are committed to the ease of your poultry farming.  
To make the whole poultry farming experience much better, digitalized, and advanced download our app in the play store or app store.  
"Thus, sees a bright future for poultry production in our country"