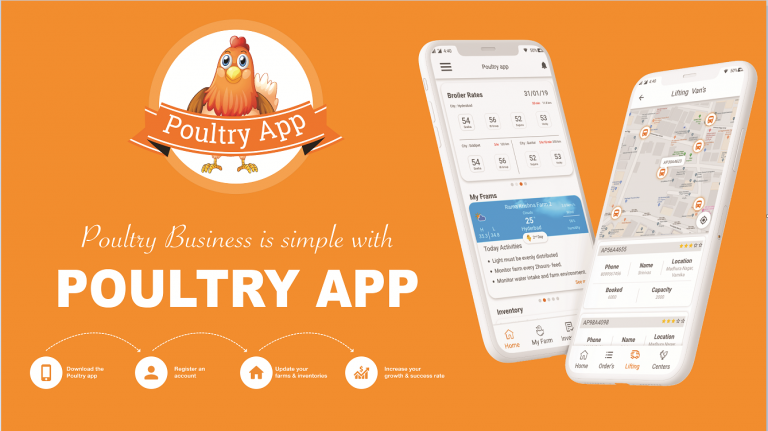 The Digital era with new inventions and technology have greatly helping poultry farmers. Usage of smartphones is increasing and a lot of complicated tasks can be completed. Mobile Applications that provide market rates of chicken and eggs, managing of egg sales and production. Several Android apps are developed for the use of poultry farmers. Few applications are exclusive for health or cost management and some are for the feed formulation. But there is an application that provides you all in one place.
Free market rates of egg and broiler chicken are provided in the application. There are different roles in the application such as suppliers, farmers, supervisors, traders or wholesalers, retailers, or chicken shops.
The farmer can find chick and feed supplier in the application, once the farmer gets the stock into the farm, he can update the feed and chick received to date. Customize the feed formulation, update inventory, farmers can check and update the mortality of the birds, and farmers can also receive weather updates. Birds can be managed in the application until they are lifted. Once the stock is lifted farmer can check if he gained profit/ loss, he can also check according to the time period.
The farmer supervisor manages and helps the farmer in checking the chicken health and mortality, update the inventories, update the feedstock.
Trader/ wholesaler finds farmers who are nearby, bring the stock and market his stock to the chicken shop/ wholesaler. A trader can track the delivery vehicles from birds lifting to till they reach the retail shop or chicken shop.
Retail shop/ chicken shop can order stock from wholesalers /traders. A retail shop can compare the prices and order the stock. Retail shops or chicken shops can track the delivery vehicle and they also receive a notification 15 minutes prior to the delivery.