Litter management in poultry farming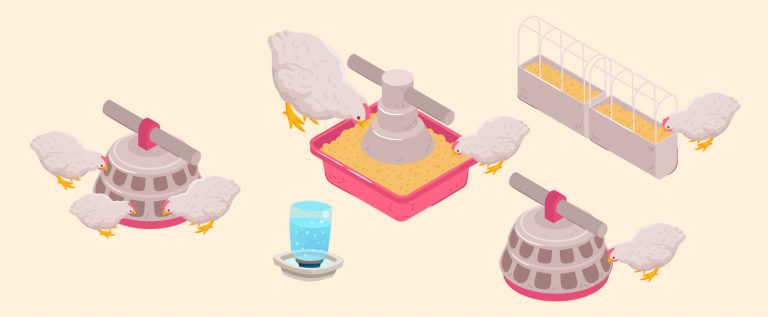 Litter management is fundamental for health of the bird, it is also crucial aspect in poultry farming.  In litter management bird health, performance and final carcass quality influence the profit of farmers and integrators. Litter should be applied evenly in the farm with a depth of 4 inches
Different types of litter
Litter must have a good quality of moisture absorption, comfort and cleanliness, lightweight, non -toxic, low dust level, and non-tainting and economical to use. Commonly used litter are rice husk, wood shavings, sawdust, corn cobs, and groundnut hulls. Whenever we use rice husk for brooding it is suggested to use corrugated paper on litter for the first week of brooding, so that the feeders and drinkers will not be with husk.
Functions of litter:
Minimizing the contact between bird and manure
Excreta of the birds is diluted
Absorbing of moisture
Litter management:                                                                                        
   Litter can function efficiently on the earthen floor, but a concrete floor is preferred disinfection at the end of each batch.
  When the initial litter of 3-5 inches beaks down, more should be added with the depth of 8-12
  Adding of fresh litter prior, caked and wet litter should be removed
  Once the litter is broken into clumps with help of a litter racker it should be allowed to dry
   Fertilizer grade superphosphate and wood ash should be sprinkled with a ratio of 4:1 at the ratio of 5kg per 10 m2 area. 
   In the beginning, the litter contains 12% of the moisture, due to poor ventilation, irregular stirring, or damp floor the moisture level of the litter might exceed 30%.
   The litter which is built-up has an important role in providing warmth to the birds during winter.
Good litter material qualities:
   Moisture absorption should be quick while droppings
   Litter must release the moisture and it should dry up rapidly
   Mold growth shouldn't be there
   No sharp objects and any other objectionable materials
   Litter should be locally available at cheap rates
   It should be of medium particle size, light in weight, and soft
   Litter shouldn't be too dry as it causes dustiness on the farm